Our mattresses feature advanced pocket spring core, ensuring durability with 10 years of warranty.
The fibres of the Hibboux mattresses consist of organic milk proteins. These not only make the mattress particularly soft and cuddly, but also ensure optimal moisture balance. Good conditions for a healthy and restful sleep for your child.
All Hibboux products are breathable and temperature regulating. They provide a balanced sleeping environment - without any moisture or sweating.
Learn more about our environmentally friendly, sustainable and organic products.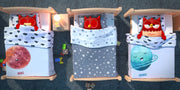 As soon as you put your baby to bed for the night, the work begins for us at Hibboux. From pillows to blankets, from duvet covers to pyjamas - at Hibboux we only use products made from natural textiles. They are the perfect helpers for your child's healthy sleep.
Hibboux attaches great importance to sustainability, environmental compatibility and the best quality. That is why all our products are certified.
You hear it first
Join our mailing list and we'll wake you up with good news.