Technologies and Certificates
TENCEL®LYOCELL - fiber: high moisture absorption for better sleep
Our collection of TENCEL®LYOCELL products has been manufactured according to our environmentally friendly production guidelines so that you and your loved ones can sleep well. TENCEL®LYOCELL comes from renewable tree sources controlled by the Lenzing Group (manufacturer of TENCEL®LYOCELL fibers). The fibres are very soft to the touch and offer excellent moisture control. This is how we create a healthy and restful sleeping environment for you.
Cairfull technology: allow your mattress to breathe.
The 3-demension structure of the mattress cover allows air circulation so that moisture can be removed. This promotes a dry and temperature-balanced sleeping environment.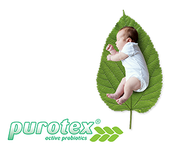 Say "no" to chemicals with the "Purotex® technology".
Thanks to natural probiotics, mattress hygiene is maintained. These are the same probiotics found in yoghurt. Purotex helps keep the mattress surface clean and fresh while naturally reducing allergens.
Cool and dry with Adaptive® - all night, every night
The award-winning Adaptive® fabric gives your mattress dynamic cooling properties. It reduces moisture by up to 67% and evaporates up to 25% more moisture than conventional fabrics. This innovative technology is activated by your body heat. As your body warms up, your sweat evaporates and your body cools down again. The mattress adapts to each body individually, so that both have an ideal sleeping temperature throughout the night.
Stay natural with Viscose®
The use of renewable viscose fabric made from tree fibres not only provides a naturally healthy sleeping environment, but also respects nature by giving back what we have taken from nature when recycling. This fabric was developed for those who prefer the natural and the best for nature.
OEKO-TEX® - Stamp of confidence
OEKO-TEX® is awarded by an independent testing platform and is the most important ecological quality certificate. This label confirms that a fabric does not contain harmful chemicals and complies with global environmental standards.
"Ecolabel" - production that respects the health of people and the environment
The European Eco-label is an international guarantee of the high standard of quality and performance of the labelled product. Products bearing this label are manufactured according to non-harmful ecological processes.
Natural moisture control with Woolmark quality
100% Woolmark certified wool fillings have the natural quality to keep you warm when it's cold and cool when it's hot. Only wool products of the highest quality receive this label. It confirms that a certified product meets Woolmark's high standards of quality and performance.